Soffit, Fascia & Eavestrough Installation for Your Home or Business
Done-Right Roofing & Sheet Metal Ltd. is a roofing contractor providing soffit, fascia and eavestrough installation with high-quality, low-maintenance products. Our products not only allow you to seamlessly match colors to your property, they are designed to resist the most common types of damage and keep your exterior looking beautiful for years to come.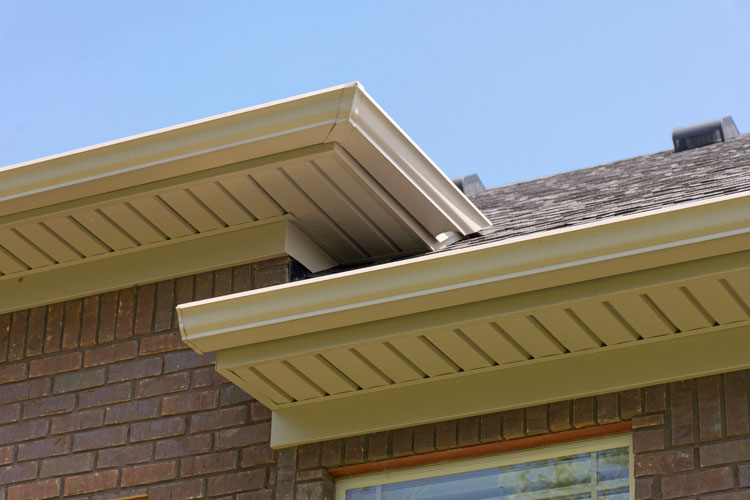 We offer matching eavestroughs and siding products from Gentek with a range of grains, thickness and colours to meet your unique needs and specifications.
Eavestroughs Protect Against Water Damage
Done-Right Roofing & Sheet Metal Ltd. is proud to offer a complete range of products from brands such as Gentek, Kaykan, Royal and Gentek Aluminum. These products resist rust, rot and warping because they're made from corrosion-resistant aluminum. They're also covered with a baked-on paint finish that resists flaking, peeling and blistering for maintenance-free performance.
With Rainware products from Gentek, we make it easy to coordinate your siding, windows, and doors. We also install gutter guards to protect your system and eliminate debris from your eavestroughs.
Soffit & Fascia Complete the Look
As an experienced roofing contractor, we know that soffit and fascia play a pivotal role in protecting your roofing system from water damage which can result in premature deterioration and mold growth. Soffit and fascia also support proper ventilation for your roofing system which, in turn, supports proper ventilation for your interior.
Gentek's Colour Clear Through® system makes it easy to find the perfect colour match for soffit, fascia, and trim products. It allows us to perfectly match your vinyl, aluminum and steel product lines for a cohesive look for your home or office.
Looking for a Roofing Contractor? Contact Us for a Free Estimate Today!
Soffit, fascia and eavestroughs complete your roofing system and help keep your interior safe and dry. For a free estimate for your exterior upgrades, call Done-Right Roofing & Sheet Metal Ltd. at (905) 875-2888. You can also fill out our contact form to request a quote!