Roof Repair & Emergency Roof Repair to Protect Your Property
Whether you're experiencing a leak, structural damage or missing shingles, you should never wait to get your roof repaired. At Done-Right Roofing & Sheet Metal Ltd., our professionals have nearly 30 years of experience in repairing roofs to keep your property protected. We also provide emergency roof repairs when storm damage or another incident suddenly impacts your roof.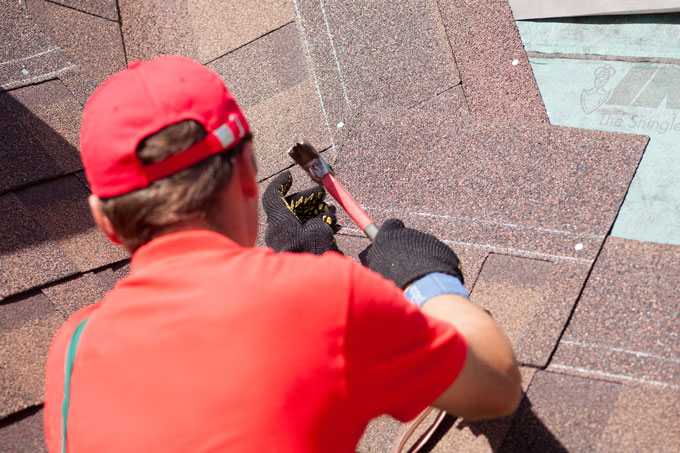 All of our team members are health- and safety-trained and covered by Workplace Safety & Insurance Board (WSIB) to provide you with peace of mind when choosing us to perform roof repairs on your property.
Signs You Might Need Roof Repair
Is your roofing system compromised or do you have a leak that needs a speedy repair? Signs you may need to consider fixing your roof include:
An interior leak or moisture damage. Moisture or leaks in your attic could signify that your roof is letting in water. Our professionals work quickly to identify the problem and let you know what you need to fix the issue.
Problems heating or cooling your interior space. Is your home or office not holding its temperature like it used to? Your roof's ventilation system may be impacted by an issue you can't see from the ground.
Missing or damaged shingles. If shingles are blowing off your roof every time a storm comes through or you're noticing cracked or broken shingles, a roof repair may be necessary.
Hail or wind damage. Storms can quickly cause damage, denting or tearing off shingles and even impacting your roof's structure. Our experts can thoroughly inspect your roof to see if there's any damage following a storm.
We use satellite imagery and measurements to provide you with an accurate estimate for your roof repair with us, so when it comes time to complete the job, there are no surprises.
Contact Us to Schedule an Estimate!
Waiting to repair your roof can lead to more costly problems down the line. Call Done-Right Roofing & Sheet Metal Ltd. today to get an estimate for your roof repair at (905) 875-2888, or submit our contact form!